Home
Talk

1
566pages on
this wiki
Welcome to the Devil Maker: Tokyo Wiki
This is a wiki which contains in-game contents of Devil Maker Tokyo like details about the Devils, Characters, Places and others aspects to know more about them. Feel free to contribute to this wiki.

If you are a new editor, or are unsure on how to edit/add a certain page, please read the Editing Documentation
Currently containing 566 articles

Poll
In last month's poll: Sisters' Grace (Amaterasu, Tsukuyomi and Susanoo) won with 106 out of 213 votes. They have claimed the top spot for 3 party combos! Gumiho the Alluring (Rare) won with 157 out of 217 votes and is now in the featured card section.
What type of cards do you prefer to have in your party?
What does your party mainly focus on?
My deepest apologies. Due to an error in spelling "Hera" (combined with my OCD"), I changed it and it reset the whole poll. I'm sort of new to this, so I'm sorry. This poll has reset.
The Gods of Olympus. Vote for your favorite card to be featured!
Join the Chat
News
04/10/14 - Rank 7 cards added
04/10/14 - Arena Season 21, Boss Rotation Season 21, Beat the Boss Season 20, Raid Boss Season 11 and "Hot Spring Village" Event starts!
04/10/14 - Arena Season 20, Boss Rotation Season 20, Beat the Boss Season 19, Raid Boss Season 10 and "Easter" Event ends!
04/23/14 - Crystal of the Abyss Distance Records has been Reset!
Featured Card
Gumiho the Alluring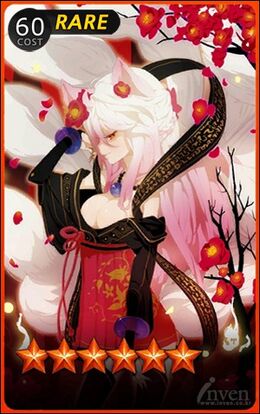 Originated from the monster fox. Having nine tails means this is one of the toughest of the monster foxes. She eats human livers, or absorbs life from human to turn into a human with her fox marble. There are a few who try to become virtuous men. Contractors should sign a contract with those that suit them best.
Read More...